Trailbusters 4x4 Club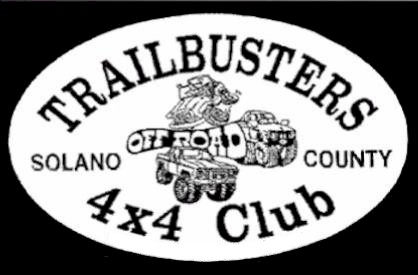 P.O. Box 642, Suisun City, CA 94585-0642
Solano County Trailbusters 4x4 Club was established in 1984. Our continuing focus has always been four-wheeling with plenty of outdoor adventure, fun, and recreation for the entire family and friends.
We have always been a club that promotes safety, resource conservation, and treading lightly to encourage a better understanding of off-roading. Many members have brought diversified experiences with them from years of four-wheeling and this adds up to a wealth of benefits to new members and to those considering membership. We keep an open mind for new ideas and experiences to keep our club fresh and exciting. With this in mind, we are constantly growing.
Some of the more interesting organized four wheeling events we take part in are:
| | |
| --- | --- |
| | Annual Toys for Tots Christmas Fun Run in Sacramento, CA region. |
| | California Association of 4 Wheel Drive Clubs Winter Fun Festival in Grass Valley, California. |
| | California Association of 4 Wheel Drive Clubs Sierra Trek Run. |
Some of the monthly Club runs and camping trips include:
| | |
| --- | --- |
| | Prairie City OHV recreation area in Sacramento. |
| | Cow Mountain by Clear Lake. |
| | Stonyford in the Mendocino National Forest. |
| | Knoxville BLM recreation area. |
| | Hollister Hills OHV recreation area. |
| | Rubicon |
Once a month we publish a newsletter highlighting special events and stories from the trail as well as pictures of members rigs.
At our monthly club meeting we get together for pizza, tell stories, share ideas about rig improvements, and we pass on information. We also show four-wheeling videos occasionally (some made professionally and some made by members on the trail).
If this sounds good to you and you would like to experience what we are all about then come on out to the next meeting. The first Tuesday of every month 7:00 pm at the Round Table Pizza in Vacaville at 888 Alamo Dr. Corner of Alamo Drive and Merchant Street. Behind the Chevron.
Hope to see you there!
This page was last updated on 03/05/05.
[GuestBook by TheGuestBook.com]